The Carolina Core is located in North Carolina's urban crescent, where the population of 8 million is growing.
Take it from Carolina Core employers. Kontoor Brands President and CEO Scott Baxter says "the talent at our local universities is incredible, particularly around tech," while Honda Aircraft Company President and CEO Michimasa Fujino says "talent in the Carolina Core has a strong work ethic as we have seen in interns from nearby colleges as well as associates that have been with us for over a decade."
Colleges Fill the Talent Pipeline
More than 30 colleges and universities in and around the Carolina Core fuel the region's workforce, contribute to an innovation mindset and inject a vibrancy into communities. Community colleges like Davidson County Community College, Forsyth Technical Community College and Guilford Technical Community College provide hands-on skills training and certifications and partner with industry on customized solutions. Four-year institutions include Campbell University, Elon University, Fayetteville State University, High Point University, North Carolina A&T State University, UNC Greensboro, Wake Forest University and Winston-Salem State University, each educating thousands of students in life sciences, engineering, business and more.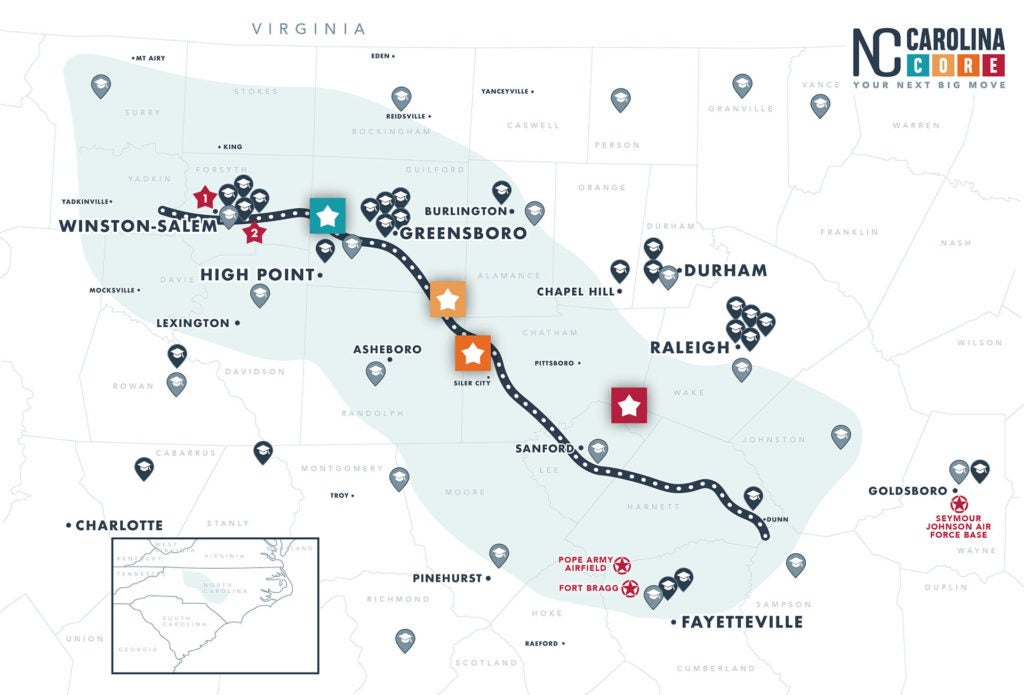 Initiatives Ensure a Skilled Workforce
The Carolina Core and North Carolina at large are continually investing in workforce development initiatives, from internship and apprenticeship programs to strategic partnerships bolstering educational attainment.
In the Carolina Core, internship and apprenticeship programs prepare young people for in-demand careers with local employers. Programs include the Alamance County Career Accelerator Program, Apprenticeship Randolph, Campus Greensboro, Guilford Apprenticeship Partners, RockATOP, and Winston-Salem's internship program, where students get hands-on training in engineering, robotics, cybersecurity and IT, and more.
At the state level, NCWorks Commission is the North Carolina workforce development board executing a four-year plan to deliver workforce development programs and services that assist the state's citizens and businesses with achieving economic prosperity. The plan supports NC Job Ready, Governor Roy Cooper's workforce initiative. NCWorks also oversees the Local Innovation Fund, a $2 million fund financing grants to communities to pilot innovative programs or adapt and replicate successful program models that address local or regional workforce needs.
myFutureNC, a statewide nonprofit organization, is working to ensure that by 2030, 2 million North Carolinians have high quality credentials or post-secondary degree. myFutureNC, which is funded by a number of foundations including the Bill and Melinda Gates Foundation, is "connecting talent to great, high-paying jobs and careers," says David Mounts, President and CEO of Winston-Salem-based Inmar Intelligence and board member of myFutureNC.
---